How to Protest in the Land of plenty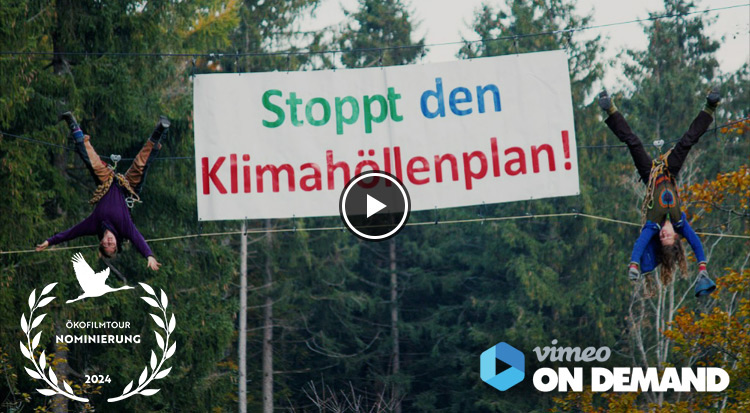 Movie details
Movie description
A film about tree-climbing, self-empowerment and maximum impact. And water. And lots of gravel.
In the rural area around the southern German Altdorf forest, nicknamed "Alti", people tend to feel confused and threatened by protest and civil disobedience, even when it aims to preserve natural foundations of life such as nature, water and soil. But a group of tree-climbing activists opposed the planned deforestation of this idyllic stretch of woodland to make way for gravel excavation come up with an effective form of resistance. Over the course of the film, local people increasingly recognize that as state property the "Alti" belongs to everyone - and that everyone should have a say in its future.
The filmmakers accompanied the activists for more than 18 months, filming their everyday lives and climbing activities as they built a tree house intended to help stop an irreversible act of environmental destruction. The result is a portrait, a political statement relevant throughout Germany and Europe, and an homage to the largest forest in southwest Germany and the people who want to preserve it.
Show dates:
So, 03.12.2023 Nürtingen, Future Box, 18.00 Uhr
So, 03.12.2023 Utrecht, ACU, 19.30 Uhr - Internationale Premiere
Di, 05.12.2023 Karlsruhe, DAV Kletterzentrum, 19.30 Uhr
Fr, 19.01.2024 Tübingen, Club Voltaire, 19.00 Uhr
Do, 25.01.2024 Sonthofen, Biberhof, 19.00 Uhr
Video on demand
📺 Watch trailer or full movie on Vimeo: https://vimeo.com/ondemand/protestlandofplenty/861134479
NOTE:This video is NOT approved for public viewing. Screening restrictions: no distribution or public reproduction without the express permission of the authors
Pictures of the movie